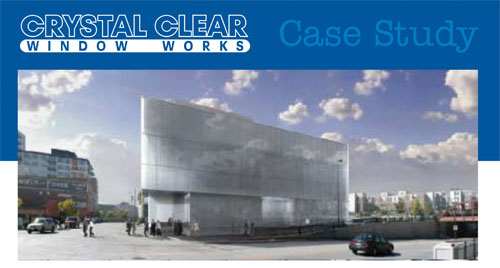 When the Museum of Contemporary Art in Denver discovered moisture blurring their ultra-modern, glass marquee, they used an innovative, environmentally-friendly solution that kept an important construction deadline on track and on budget.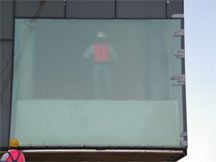 On September 28, 2007 Get the FOG Out of Denver, an authorized Crystal Clear Window Works Dealer, successfully removed moisture from a failed thermal pane unit at the world-class Museum of Contemporary Art in Denver.
Pushing 140 sq. ft, and over 1000 pounds, this dual pane insulating glass unit features 2 pairs of laminated 13/16" tempered glass boards with a total width of 2 5/8 inches. The unit would not be easy to remove or replace, considering it was installed some 30' above ground
The glass contractor for the project was in front of a logistical and costly problem. Heavy equipment was scheduled to be moved offsite within days. Ordering a custom replacement unit might take weeks. The cost of this alternative would exceed $25,000. So he contacted the local Crystal Clear Window Works dealer.
GTFO Denver specializes in the on-site restoration of failed, foggy and damaged windows. They use a variety of proprietary, innovative techniques to fix different types of failure depending on climate, unit construction, sources of failure, and many other conditions. Assessment Specialist Jim Baker found that specific to this particular failure were:
1. The unit may have experienced elevated structural stresses through transport to and around the worksite, compromising seal integrity.
2. The moisture problem was restorable but would rapidly affect clarity if left untreated and bring damage to the glass.
3. Vapor pressurization estimates drawn from what they knew about the exterior atmosphere and controlled interior, pointed to a drying period of 3 weeks and in advance of the Museum opening.
4. Unit seal is fully exposed to precipitation and runoff projected 1" beyong building facade.
5. The unit does not require thermal optimization, it only needs clarity.
Baker and head technician Mark Alvarado decided they could dry the unit naturally. They would apply a series of air sieves to create an air flow venting across the span of the unit to significantly accelerate curing.
Baker recognized they would have to be able to keep the unit clear. Estimating the volume of moisture inside the unit and the expected rate of expulsion with limited solar exposure and early, Colorado fall temperatures, they forecast a 4 week curing period and a dew point low enough that no condensation would develop to impair visibility at launch date.
GTFO used CCWW's V2Clear authorized procedure for tempered glass. Because of the size of the unit, they are prepared to enhance cross-ventilation as required with additional venting chambers to accelerate curing, as required.
The direct exposure to precipitation and the moisture conduits located along the perimeter presented their greatest challenge. The unit would be sealed with a clear marine epoxy bond to maximize moisture deflection, and ultimately capped by the contractor.
Once pressure-equalized, the IG will no longer experience pressurization that infuse moisture & humidity into unit.
In the end, all deadlines and expectations were more than met and all partners content, including the city of Denver that kept a 1/2 ton of glass out of its municipal waste stream!
THE PARTNERS
• Get the FOG Out of Denver: Marylee Hause Owner; Jim Baker, Project Lead
• Trainor Glass. Kelsey Little, Project Manager
• Crystal Clear Window Works USA, Corporate Franchisor and authorized license distributor of glass restoration and window defogging technology.