First Quarter statistics released by the Genesee Region Real Estate Information Services (GENRIS), the information subsidiary of the Greater Rochester Association of REALTORS® (GRAR), reflect an uptick in activity for the local housing market in the 11-county region, most likely attributed to the unseasonably warm weather.
Transactions for the First Quarter 2012 showed a 9 percent increase over First Quarter 2011, with 1,781 homes sold, as compared to 1,634 during the same period last year. The number of homes listed rose significantly over the previous quarter, up 43 percent. The Median sale price held steady at $115,000.
"This past quarter marks the third straight quarter of a recorded increase in homes sales," stated Steve Babbitt, president of the GRAR Board of Directors. "In addition to strong market fundamentals such as historically low mortgage rates and plentiful inventory, the mild winter kept buyers out of hibernation and active on the market."
"With five consecutive quarters of increases in purchase offers accepted, the market is trending up," said James Yockel, CEO of the GRAR. "We anticipate this trend to continue with a vibrant spring selling season."
There were several towns within the region that experienced sales gains this past quarter from the same time a year ago. Most notably, Parma (Hilton Village) realized a 45 percent jump and Chili posted a 16.7 percent boost.
Outlying counties also followed the trend. Wayne County recognized a healthy upturn in sales with a 30.3 percent year-over-year increase in number of existing homes sold and also realized a 27 percent jump in median price to $114,900.
GRAR continues to support the local residential real estate industry by promoting the benefits of home ownership and using the services of a REALTOR® when buying and selling a home.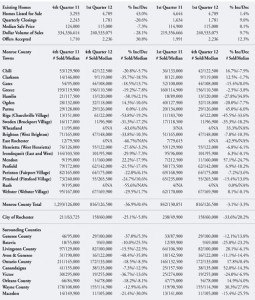 Click to enlarge stats