PROPERTY SOURCE FRANCHISE
The Property Source Online™ is the newest and most exciting franchise opportunity available. When considering all options in real estate advertising, you must look at how the real estate is presented. Our publications are easy to read with larger ads and organized in a way that makes sense. Our web site is presented where a buyer can actually find a home that fits their search criteria. As an associate publisher, you receive the tools necessary thrive.
Our success is predicated on years of knowledge in the real estate markets. We have gone through the learning curves which means you will be able to learn from our success quicker and build a business that can be both lucrative as well as something to be proud of.
QuestCom Incorporated has streamlined the real estate advertising business where your responsibilities are sales and marketing, distribution of your full color publication, maintaining your website and managing your business. QuestCom Incorporated is a design house that manages the production and printing of your full color publication.
The Property Source Online™ gives you the ability to service real estate professionals, apartment managers, mortgage lenders, new home builders and home services in your community. With this wide range of clients to approach, your business will build fast.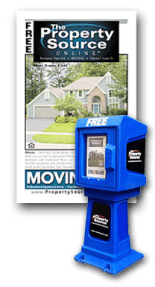 A Property Source Online™ Franchise Offers:
• Web Site
• Marketing Materials
• Graphic Design/Printing
• Distribution Materials
• Consulting/Sales Training
If you would like more information regarding your own Property Source Online™ franchise, please submit our Franchise Questionnaire Form. This will help us help you in creating the most effective publication for your area.
Ask us about website only franchise.