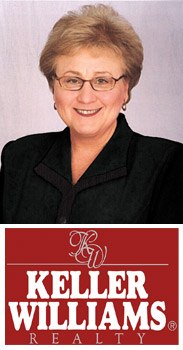 Agent: Carolyn Stiffler
Title: Associate Broker
Company: Keller Williams Realty - Greater Rochester
Address: 1379 Long Pond Road
Address: Rochester, NY 14626

Phone: (585) 732-0428
Fax: (585) 227-2976

See all listings by this agent...

DARE TO BE DIFFERENT!
Being different comes naturally to Carolyn C. Stiffler

Whether you are Buying or Selling, you will want someone who cares about you and understands your needs. I feel communication is vital for our customers. I have 800 #s to the office, cell phone, home and office, voice mail locally and long distance, MLS on all personal computers and email.

My personal website is www.C arolynStiffler.com and it is jam packed with information.

Customer service is our middle name. Carolyn`s "Crew" is made up of licensed agents, a transaction coordinator,and a person who does all the rest, named Davey`s Express along with an A-Team of the finest Professionals in the industry to help make your transaction as stress-free as possible.

If you are selling, you will want "Agressive and Continued" advertising/marketing until your property is SOLD. When buying, you will want an agent who knows the market and can represent you. Whether you are buying or selling, you may also want to attend one of my seminiars or workshops.

Call today for a private, no cost consultation.....