By Thomas Wurzer, P.E.
Backup Sump Pumps
Many areas of the country have basements with sump pumps. Most basements that are not built near a deeply buried storm sewer will have a sump pump. With the somewhat porous masonry block basements that are commonplace in our region, along with the floating slab floor drainage systems, a reliable means of pumping water out of the sump is important to protect the basement and all of the items and equipment contained therein.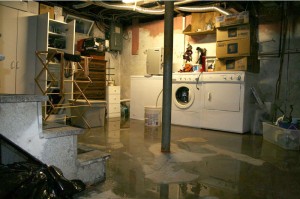 A basement beginning to flood
Every few years, our region will be the unlucky recipient of an ice storm. When this occurs, the power can be interrupted to thousands of homes throughout the area. These interruptions can last anywhere from a few minutes to a few weeks. Couple this with other "normal" interruptions of electrical power and there is a significant potential for your primary electric sump pump to be out of commission.
There are several means of providing a backup sump pump, or at least a backup means of pumping water out of the basement in the event of a power failure. Battery backup pumps, water-powered pumps, portable emergency generator connections and whole-house gas fired generators are all potential solutions. These methods provide varying degrees of reliability, endurance, and additional benefits.
Battery Backup Pumps.
Perhaps the most economical method of providing a backup sump pump is a battery backup sump pump. There are many of these available and they vary in size and capacity. Costs vary, but are typically in the range of $200 to $400 for the pump and accessories, plus $75 to $300 for the battery. If installing this on your own, the cost would be $300 to $700. If hiring a handyman or plumber, you might spend $600 to $1,000.
Basically, these backup pumps consist of a second, individual pump that sits in the sump alongside of the primary electric pump. The float or actuator for the pump will typically be set several inches above the main pump. That way, if the water level rises above the level that the main pump can typically maintain, the backup pump will automatically turn on.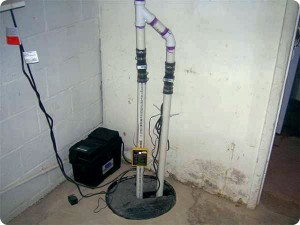 Sump with a battery backup pump installed
Usually a buzzer or alarm will sound to let occupants know that the battery backup pump is in use, and that the main pump could need servicing. In the event of a power failure, servicing the main pump would be of little value, other than running an extension cord form the main pump to a portable generator.
Once the battery backup pump is operating, there is a limited run-time for the pump. Typically, this varies from between 6 to 12 hours of run-time. During an extended power failure, this may not provide enough time to fully protect the basement, but it does provide a time "cushion" during which a generator or alternative pumping means could be set up. It also is adequate for power failures lasting for only a few hours.
Water-Powered Pumps
A step above the battery-powered pump is the water-powered backup sump pump. These are popular due to their relatively low first cost, along with the fact that they will run indefinitely, as long as there is a pressurized source of municipal water to the house. Obviously, this is not a good solution for homes with a water well.
Although there are different models, the most widely used water-powered pumps only cost $120 to $300. However, there is some water piping necessary, in addition to drain piping.  Further, the local water authority requires a type of backflow preventer on the water supply piping to the pump. This may actually cost as much as the pump. Together, the cost could range from $250 to $450 self-installed or $450 to $700 installed by a contractor.
Samples of water-powered sump pumps
There is no alarm to let occupants know that the water powered pump has activated, pump these are typically loud enough for you to hear them engage and disengage. These pumps should be checked periodically for any leaks in the piping and valves and a type of flow alarm on the piping is a good accessory to consider to let you or your security provider know when the pump is in use (or if the water line for the pump broke and is flowing).
Of course, water-powered pumps will run as long as the water pressure from the municipal service is adequate (usually 30 psi is required). These pumps also use a lot of water that you will be billed for when the pump is needed.
Portable Emergency Generators
If the power to the house is interrupted, the best solution is to have a backup source of power. One method is to use portable gasoline powered generators. There are many, many models of generators available with a huge variation in price based on brand, capacity, features, and more. Prices for the generator can range from $100 to $5,000.
There are small generators that can simply be operated outdoors near the basement with an extension cord running to the sump pump. However, for greater reliability, and to power other appliances such as the furnace and the refrigerator, a larger portable generator and a manual transfer switch are a better choice. This allows safe connection and operation of the outdoor generator and eliminates the risk of back-feeding the utility company service. The transfer switch has fuse or circuit breaker protection for the specific circuits as well. Transfer switches can cost from $250 to $400, plus installation by a qualified electrician.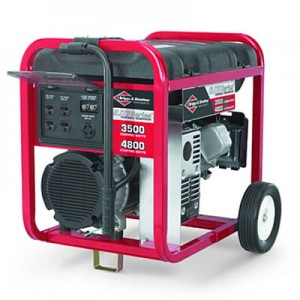 Typical portable emergency generator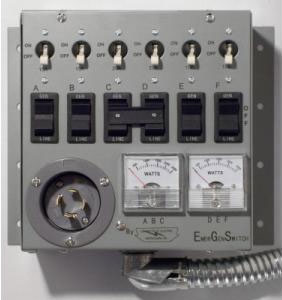 Manual transfer switch
There are high water level alarms available for sumps that are battery powered or connected to the security system of the home.  These are helpful to alert you when the pump fails and when you need to get the generator connected and working.  As long as you can keep the generator running and working, you can run the sump pump.  In homes where constant pump operation is a possibility, having a second primary pump available in the event of a pump failure is a good idea as well.
Whole House Generators
The Taj Mahal of backup pumping provisions is the whole house generator. Permanently installed natural gas powered generators provide the most reliable backup sump pump option. Along with an automatic transfer switch, a whole house generator can automatically supply power to most, if not all, of the house, including the sump pump. High quality comes at a high cost, and the installation of a whole house generator can run from $4,000 to $15,000.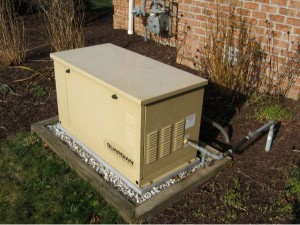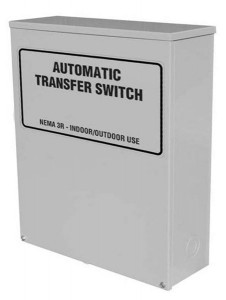 Typical whole house generator and automatic transfer switch
As with any mechanical equipment, generators require maintenance. The whole house generator will typically run once per week for several minutes to "exercise" the unit and help charge the internal electric start battery. Similar to a car, there are air filters, oil filters, oil changes, etc. If you are not familiar with changing the oil in your car, you will want to consider a service contract to maintain the generator to make sure it is always ready for operation.
Whether or not a backup means of pumping water out of the basement is needed depends on many factors. Some basements have gravity drains and do not require pumps.  Some sump pumps never run because the sump never accumulates water. But for basements with pump that run frequently during the spring and after rain storms, a backup means of pumping is good insurance. We hope that the information above clearly points out some of the options and costs for backup sump pumping. As always, we welcome any questions and comments that you may have regarding this topic or other relating to building inspection.
Warren Engineering