New home building permits in the Rochester area were down in the 1st QTR of 2009 by 98 permits. In 2008, 239 permits were applied for in Monroe, Wayne and Ontario counties and in 2009, 141 permits were applied for. Part of the decline was due to an unusually snowy and cold winter that did no allow builders to get early starts for the spring selling season. Although this is not unusual, the past few winters have not been as harsh and building continued almost without interruption even in those winter months. "Although building starts are down, the builder confidence level is up", said Dawn Aprile, Chairman of the Rochester Home Builders' Association. "Builders are reporting that traffic at their model homes has been very good the last few weeks as the weather has improved and the drop in interest rates is certainly a positive factor as well. Contracts are being written and we should see part of the decline made up in the 2nd QTR." Aprile said.
Figures for new homes dropped by 77 permits in Monroe County from 158 in 2008 to 81 in 2009. Wayne County permits decreased by 19 from 29 in 2008 to10 in 2009. Ontario County remained consistent with 50 new home permits in the 1st QTR of this year versus 52 in 2008.
Chief Executive Officer of the Rochester Home Builders' Association Rick Herman indicated that overall the builders are pleased with business comparing it to other parts of the country. "Comparable markets in the south, mid-west and west coast are experiencing much different and not so favorable conditions. Our area is very stable economically in large part due to the stability of our housing market. Our area builders recognized that a slow down in building was likely to occur and planned accordingly. When final 2009 figures are tabulated, we do expect 2009 to be similar to 2008 and we further expect that 2010 will be back to normal. That's good news for the builders, but also the hundreds of other local businesses and thousands of jobs that depend on new home construction in our communities."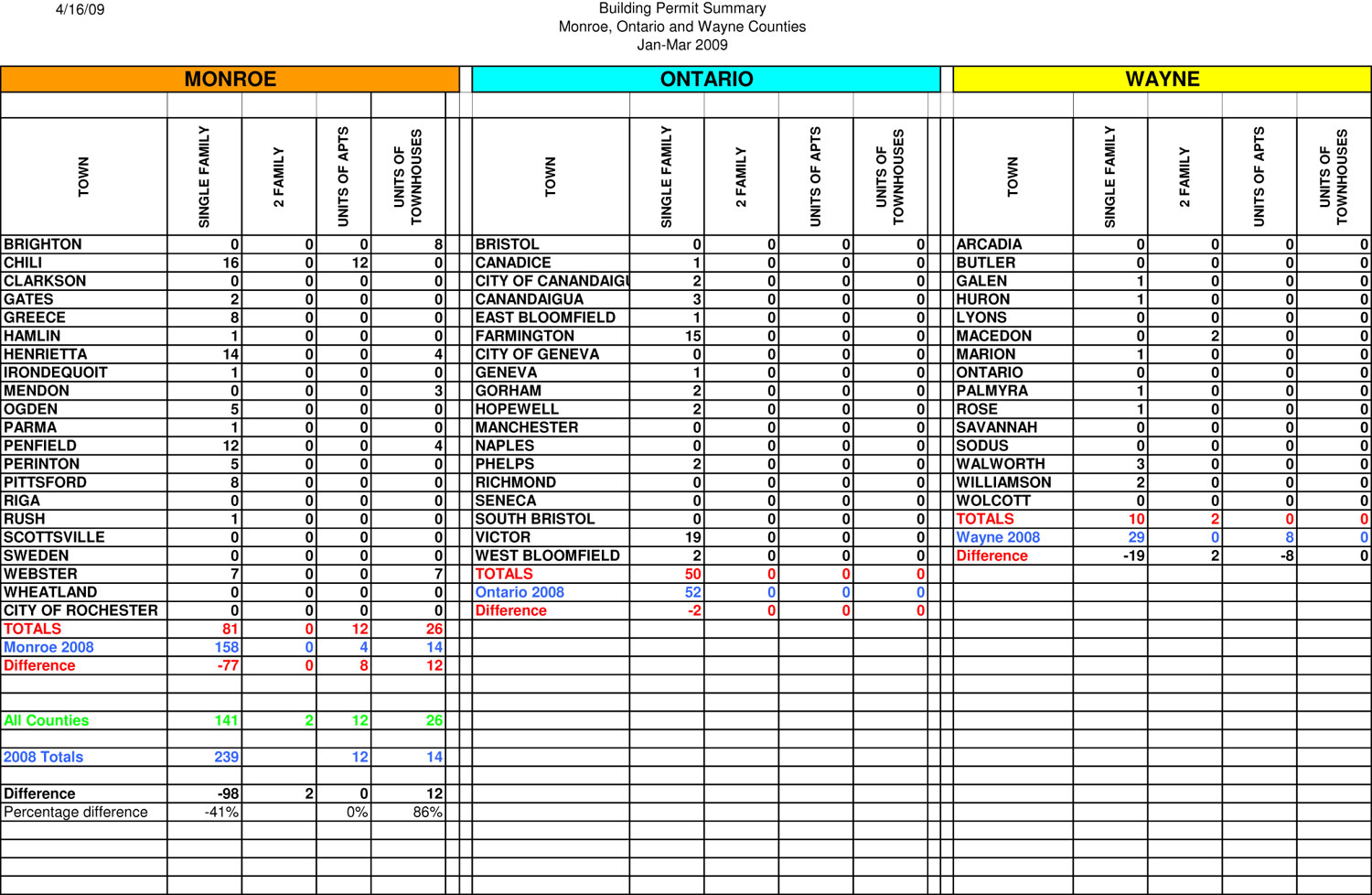 In 2009 the Rochester Home Builders' Association (RHBA) and its nearly 400 business members are celebrating the association's 75th anniversary. Incorporated in 1934 the Rochester Home Builders' Association is one of the original eight associations that helped to form the National Association of Home Builders (NAHB) in Washington, D.C. Seventy five years later NAHB has more than 800 chapters across the country, and the Rochester Home Builders' Association is one of the strongest and most active of the 16 chapters in New York State. The RHBA is a trade association of home builders, remodelers, general contractors, trades, suppliers, lending institutions and many other businesses that support the building and remodeling industries. Find out more at www.rochesterhomebuilders.com.