By Kristen Heyen Noble
Bedrooms need extra attention when preparing your house for sale.  The larger they appear the better.  As difficult as it is to remove personal items that are important to your day to day comfort, you have to make the top priority getting your house sold FAST!
Try and make all bedrooms gender neutral.  Cream/white will still match your child's special things.  One trick I do frequently is to use the opposite side of a comforter if it is a solid color.  Purchasing new curtain sheers for $4.50 a panel is a great idea. This allows you to take some of the "personality" out of a room.  If you have a special comforter set ensemble taking down the window treatments now will save complications later when a buyer wants all window treatments.
Your master bedroom deserves even more attention.  Remove all visible items off of the dresser and night stands.  Pack clothes you won't need  and use metal hangers for the ones remaining clothes in the closet so that closets  appear more spacious.  Every buyer would love a lavish master bedroom.  A fresh neutral paint job in a warm beige color with white trim is a huge, classic, and inexpensive way to improve the look of the room instantly.  Again, in this case the bigger the better.  If you have a king bed that monopolizes the room, consider borrowing a queen sized bed to help your room appear larger.  Buyers should see your bed as the focal point of the room.  Consider purchasing a new bedding ensemble or comforter that is (sorry to repeat myself) neutral. Add at least one set of pillows to make the bed look extra comfortable. Accent pillows can be made easily by taking a bed sheet or pillow case and wrapping it around any pillow. Draping a soft throw on the end of the bed in a contrasting texture from the bedding with a breakfast tray is a lovely touch. Remember, you are staging the room, not decorating it.
If you don't have a bedroom set or a headboard above your bed create that look by adding a mirror with a couple of wall sconces with candles.  LED pillar candles are now available.  They are great to use so that you can turn them on before each showing and not have to worry about the potential of them being left on.  Metal garden fence borders make great "headboards" with a little spray paint.  You can also take a piece of cardboard, glue towels to it and then staple on a neutral fabric with large brass/wrought iron buttons or round drawer pulls for a headboard.  If there is a way to have a small seating area, even if for only one chair and a floor lamp, buyers love that potential.
As you've heard many times, a picture means 1000 words.  Most home buyers are stretching their budgets to purchase a home they plan to grow into or use as a starter home.  Taking a few extra steps preparing your house before putting it on the market will help sell it more quickly.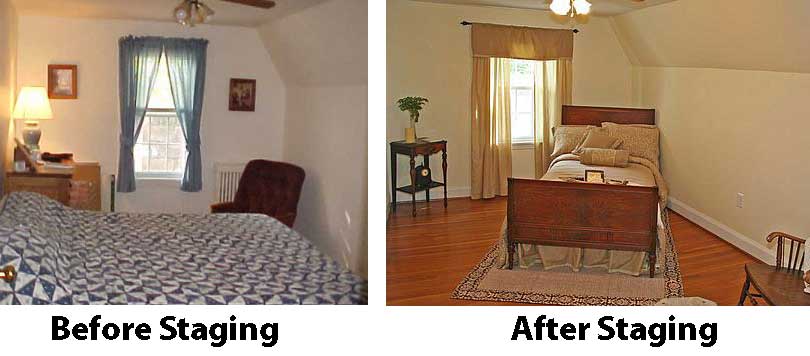 If you have more questions on home staging, let me know!
dreamhomeimpressions@hotmail.com
(585) 733-1128
Kristen Heyen Noble, Real Estate Agent
Danielle Windus-Cook Properties
Dream Home Impressions Home Staging & Re-Design owner