Members of the REALTORS® Charitable Foundation (RCF) the philanthropic arm of the Greater Rochester Association of REALTORS® were among a record-setting number of 1,200 community volunteers who participated in the 2009 City of Rochester Clean Sweep project. The initiative, created by Mayor Robert J. Duffy in 2005, takes place on four consecutive Saturdays and has become a team-building venue for neighborhood associations, church groups, school clubs and teams, and civic organizations.  
Each year, through the NeighborWorks® Healthy Blocks Initiative, RCF volunteers join forces to help clean and beautify city neighborhoods by removing litter and debris, planting flowers, and pruning trees. On Saturday, May 2, Bill Tierney, Marlynn Butler, Cindy B-Rosato, Paul Knipper, Jeannine Whitaker, Doug Sadowski, and Anastasia Markson were a part of the North Winton Village project team that assembled garden beds, picked up litter, weeded and mulched. 
"This is a great opportunity to work alongside some wonderful people," said RCF Board Chair Cindy B-Rosato. "Although it involved a lot of backbreaking work, at the end of the day we were able to look back and take pride in all that we were able to accomplish. That really made it all worthwhile."
Healthy Blocks is NeighborWorks® Rochester's Targeted Neighborhood Initiative, which incorporates all NeighborWorks® Rochester programs and services in a tailored neighborhood-based delivery model.  In addition to homeownership education, home improvement lending and lead hazards services, Healthy Blocks staff work with residents to develop leadership, increase community engagement, improve curb appeal, and positively impact the local real estate market within the neighborhood.  Ideally, by the end of the program, each targeted neighborhood will have become a "neighborhood of choice" within the city of Rochester. This is defined as a place where people choose to invest their time and money and is reflected in a strong, stable real estate market.
Katrina Hanson, Healthy Blocks program manager, has worked closely with RCF volunteers and admits that they are some of the most hardworking dedicated people she has met. "If you ask the average volunteer to move a couple of yards of mulch and compost, there are going to be some tired volunteers later," she said.  "But this group really raises the bar."
The Rochester REALTORS® Charitable Foundation is the Collective heart of Rochester's real estate professionals, addressing critical housing needs, creating sustainable neighborhoods and encouraging homeownership. Since 2001, RCF has granted nearly $400,000 to over 35 area charities. 
Ellen DiSano, GRAR Director of Marketing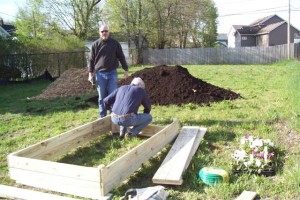 Bill Tierney, RCF Volunteer and
Marty Sample, NeighborWorks® Board Member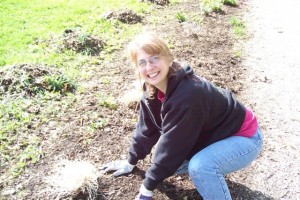 Marlynn Butler, RCF , Volunteer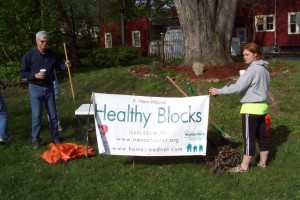 Bill Tierney, RCF Volunteer and
Sarah Culligan, Neighborhood Outreach Coordinator